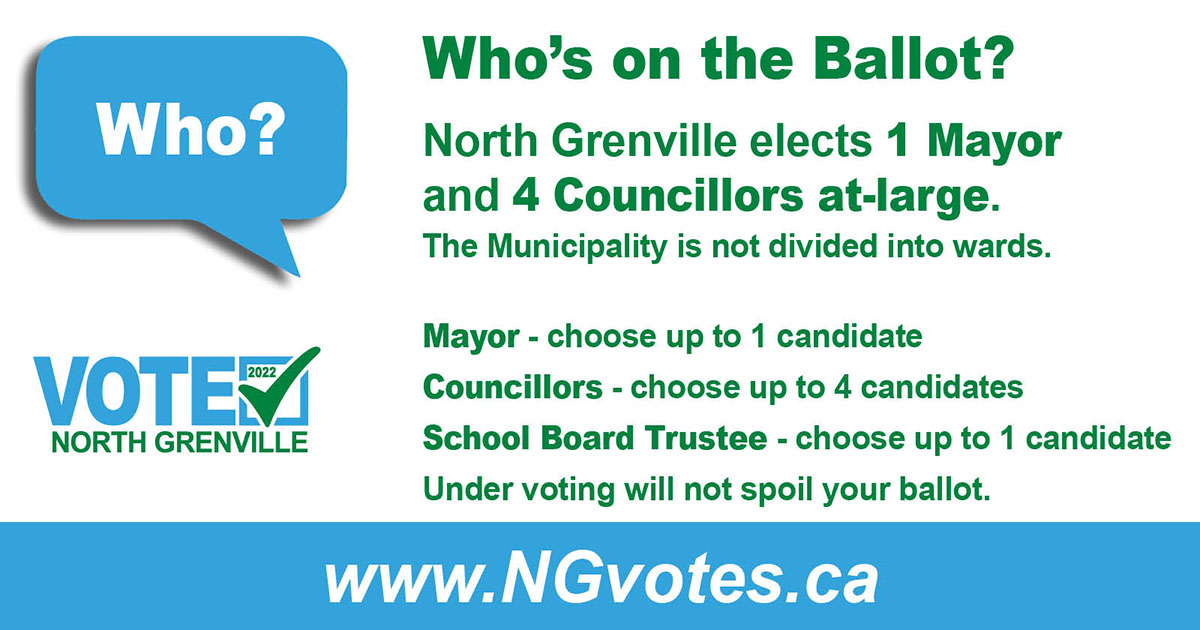 Voting Day is October 24, however eligible electors in North Grenville will be able to vote online from anywhere in the world, or vote by telephone anywhere in North America, beginning at 10:00 a.m. EST on October 17 and continuing through to 8:00 p.m. EST on October 24. Electors also have the option of voting using a paper ballot at the advanced polls on October 20-21 and on election day, October 24 between 10:00 am. and 8:00 p.m. at the Municipal Centre.
As of September 6, 2022, electors can check to see if they are on the Voters' List or get themselves added to the List by visiting the Municipal Office during regular office hours (Mon-Fri, 8:30 a.m. to 5:00 p.m.) and speaking to someone from the Clerk's Office.
Eligible electors will be mailed a Voter Information Letter beginning in mid-October that will provide voters with a PIN (Personal Identification Number) as well as a website address and a telephone number that will be available for casting ballots between 10:00 a.m. on October 17 and 8:00 p.m. on October 24. Electors will be required to visit the website or phone the telephone number and enter the provided PIN as well as their date of birth. The system will match the PIN to the date of birth confirming elector identity and the appropriate ballot will then be provided.
The Municipality does not organize any candidate events, however, various organizations within the community often host all candidate meetings or debates. To view a list of all candidate meetings that the municipality is aware of visit Important Dates.